QUESTION 21
What antenna connector type is displayed in the exhibit?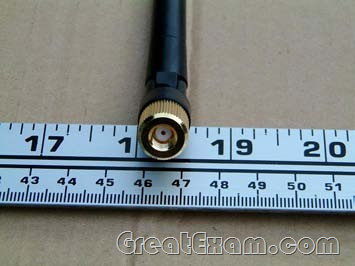 A. RP-TNC
B. RP-SMA
C. N Connector
D. MC Connector
E. MMCX
Answer: B
QUESTION 11
Given: Use the exhibit as a reference. ABC Company has a WLAN controller with 10 controller-based APs; the Voice SSID is configured for centralized data forwarding. Each AP is connected to an access port on a layer-2 Ethernet switch. Each layer-2 switch is uplinked to a single layer-3 core Ethernet switch. The WLAN controller is connected directly to the layer-3 core Ethernet switch. Layer-3 tunnels are created between all controller-based APs and the WLAN controller. A voice server is connected to the layer-3 Ethernet switch. When a voice-enabled QoS STA sends an IP data packet to a voice server in this scenario, the DSCP value carried in the STA's IP data packet gets mapped to what and by which device?
QUESTION 1
Multicast video applications typically require special treatment on the Wi-Fi network due to the nature of multicast traffic. Many vendors implement proprietary multicast-to-unicast conversion for this reason. Which of the following is NOT a valid reason for special unicast conversion of downlink multicast traffic?
A. In QoS WLANs, multicast traffic is always assigned to the best effort (AC_BE) transmit queue.
B. Group addressed downlink frames are not acknowledged on the wireless medium.
C. Multicast traffic must always be transmitted via omnidirectional antennas.
D. Frames with a group receiver address must always be sent at a rate in the Basic Rate Set.
Answer: C